National Volunteer Week was established by Presidential Proclamation in 1974 to bring focus to the millions of individuals who freely give their time and talents to better their community. Later, the week of appreciation was expanded to include the entire month of April. And now, in April each year the whole world recognizes Global Volunteer Month.
Here at Leader Dogs for the Blind, it's an important time of year for us as we stop to take a moment to formally express our appreciation to all the volunteers who make our organization succeed. Did you know Leader Dog has around 800 volunteers? That's over five times the number of staff!
Our dedicated volunteers allow us to maximize the impact of our resources and focus on the core parts of the Leader Dog mission. We depend on them for all facets of the work we do. We frequently say, "We couldn't do it without you" to our volunteers, and we mean that quite literally! The simple acts of kindness and generosity that volunteers give keep us going.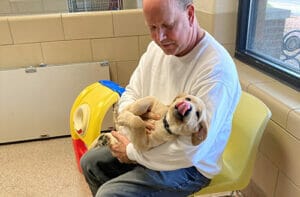 Leader Dog volunteers actively, joyfully and with purpose participate in every aspect of our operations. At times, some of the work is messy, smelly or repetitive, but volunteers never shy away. They roll up their sleeves and get the job done. When asked to take on a new role or help solve a new challenge, they always step up. Leader Dogs for the Blind volunteers are a special "breed" indeed.
So, during this special month we say a heartfelt THANK YOU to all the Leader Dogs for the Blind volunteers. Thank you for sharing your time and special talents with us. Thank you for supporting our mission. Know that we appreciate everything that you do and are proud to have you on our team.