One of my favorite books as a little girl was a children's novel called Follow My Leader. It was a story about a young boy who loses his vision when he and his friends find and set off a firecracker. Through hard work and the support of family and friends he bravely goes on with his life. He gets a guide dog named Leader who helps provide companionship as well as independence. It is a great story, and when I read it, I had no idea that I would lose much of my vision a few years later. I think reading it and loving it was providential preparation.
I first started losing my vision at about age 12 or 13. After a lot of tests, the doctors determined that I had a genetic condition called fibrous dysplasia. I had an overgrowth of bone in my skull that was gradually squeezing my optic nerves and taking my vision. Over the next few years, I had three big surgeries to decompress the nerves and save as much vision as possible. When I stopped growing, the bone stopped growing, and my condition stabilized. I was left with total blindness in my left eye. But in my right eye I had tunnel vision like looking through a keyhole. I also had some peripheral/side vision scattered around that was very helpful. Although I would have qualified as legally blind by today's guidelines, my doctor and my parents encouraged me to participate in every aspect of normal sighted life as possible. I am thankful for all the vision that was saved, and for the wisdom and support of my parents.
It took a couple tries, but I was able to complete college and graduate school with accommodations. I had a twenty-year career as an occupational therapist working with children. I am married and have four adult children and two grandchildren. A full life. At around age 60, I lost some additional vision from an unrelated retinal problem. I decided I could no longer adequately carry out my work duties and went on disability. I also decided to get a guide dog from Leader Dogs for the Blind. His name is Prodigy, and he helps me to be more confident and independent, like the little boy in the story.
Just between you and me, it has not been easy. There are lots of things I simply cannot do, and lots of things that require inordinate effort and extra time. But I keep trying and am satisfied with less than perfect results. I no doubt would have been a better occupational therapist if I had normal vision. But my kind coworkers stood in the gap for things I couldn't do, and I focused on getting really good at the things I could do. I have always had trouble recognizing people by sight, but I learned to cheerfully greet everyone I met just in case. I think this made me a more cheerful and outgoing person than I would otherwise have been. I cannot drive a car, but I have friends who offer to pick me up for events, online shopping, and a wonderful husband who will take me anywhere.
I have a history of bumping into people and tripping over things, but now I have my beautiful Prodigy to steer me around obstacles. I cannot read books to my grandchildren, but I have memorized a few children's books, and I am trying to get better at making up stories. Sometimes I feel discouraged and sorry for myself, but when I call out to God, he hears me and helps me, and lets me know that he understands and loves me. I am blessed.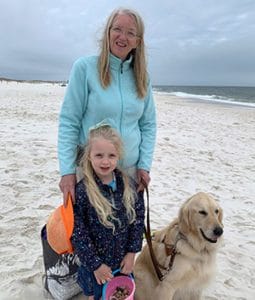 As I get older, I am more aware of the challenges that others face. We all have struggles and disappointment, victories and joy. Within our relationships, we can provide one another with the love, encouragement, and support that makes all the difference.
Would you like to write a future installment of Voices of the Leader Dog Community? If so, please let us know! All emails will be answered, but we can't promise everyone will have the opportunity to participate.
Read more about our Voices of the LDB Community initiative.