The home delivery option for orientation and mobility is a new one at Leader Dog since June 2022. It's an option we've always thought would be a good idea with our clients, either serving directly in their homes at the onset, or following them home to help them establish routes, putting into practice what they've learned over the course of their training on campus. It has proven to be very effective. Serving clients who may not be able to travel for myriad reasons such as health issues, single parent responsibilities, or a desire to work on very specific public transportation routes or intersections are some of the main reasons home delivery we offer home delivery. When home delivery occurs, the client receives the same amount of O&M training as  if they were at Leader Dog. Plus, they get the benefit of doing it in their home environment. There are benefits and drawbacks to each method of training, but by adding the home delivery option, we've given our clients more flexibility.
My name is Barry Stafford and I work at Leader Dog as a certified orientation and mobility specialist providing both on-campus and home delivery instruction. I'll be sharing some of my stories with you as I travel the U.S. to work with clients and provide home delivery service of O&M instruction.
Day 1
I love my job, but one of my least favorite parts of it is the lines. Lines, lines, everywhere lines. This one at Terminal C in Houston was prodigious. And, honestly, it's 2023. What's wrong with our X-ray technology where I can leave my computer in my bag, but STILL must take my shoes off? Are my shoes an issue of national security? Maybe… I have no issues with TSA. They have a tough job and I'm very willing to comply. Maybe I should select better on/off shoes.
Anyway, after I cleared security, I visited yet another airport restroom in which I waved my hand under both water faucet and paper towel dispenser when both were manually activated. Mostly: Ewww. Secondly: why aren't all restrooms standard? (This brings up all kinds of questions about standards, like "Why aren't all audible pedestrian signals designed exactly the same and placed at the same place at every intersection?" and "Why aren't all elevator button patterns designed the same?" There's a lot more questions here than answers.) I wasn't the only one doing this, thankfully, as I joined many of my fellow travelers in waving at water fixtures in Terminal C.
After all the lines and a long walk (even for a mobility specialist) I got to my gate on onto the plane. I get a lot of freedom in picking my flight and, to some degree, my seat assignment, but this one was row 37 of 39 available rows. No big deal, really. I had a window seat and a good book (Last Stand by Nathaniel Philbrick. Highly recommend). A diesel mechanic from Louisiana was in my seat and I didn't want to scuffle with a guy who works with his hands every day (his forearms were ginormous), so I'm glad he moved willingly. Love my window seat. I really, really love my window seat. The mechanic and his wife were headed to Phoenix for a diesel mechanic competition during which he would be (among other tasks) assigned a motor with some diagnostic issues and he would be scored on how quickly and accurately he diagnosed the issues. A man with a trade like that will have a job as long as he wants to work. Don't ignore the trades as a career option, young readers. The mechanic and his wife left a very young family of three with the in-laws for a short getaway to the Valley of the Sun. Nice couple. She was incredibly nervous before, during, and after the flight. She even said it would be ok with her if I held her hand for support during takeoff. I didn't, but I'm pretty sure she wouldn't have minded at all.
Landing in Phoenix, I successfully operated all the fixtures in the men's restroom, checked out a car and headed to the hotel. Thank the Good Lord for GPS because this area is HUGE, and I've only been here once, about 20 years ago. Another hotel (they're starting to all look the same) and another "free, hot breakfast (which are also starting to look the same). Tomorrow, we'll see if I can find my client's home and get started. Funny to have a job orienting someone to the environment when I'm not really oriented to the environment, either. Shhh, don't tell him…
Day 2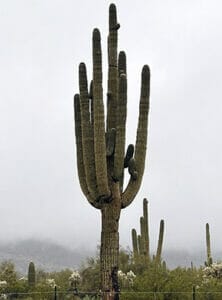 I woke up reminding myself where I was. Sometimes, the rooms can start to look the same. The free, hot breakfast included bacon. Boom. I also had to remind myself what car I'm driving this week. The "panic" button works great when you don't know which one is yours, but it tends to make other folks a little nervous. I'm staying in Mesa, and my client is in Scottsdale, so I left a little early to scout out the neighborhood. Google Maps gives me a good idea about each client's home area, but nothing beats walking the area myself.
The client was ready to get going, but I always find it helpful to have a conversation first, just to make sure we're both speaking the same language, and to determine personal goals. When getting ready to head out the door, the client told me about a conversation he had with a friend who is blind asked him, "What's the most difficult road to travel on?" He responded with "A busy intersection?" "No, the most difficult road you travel on is the one in front of your own home." So true. Yogi Berra once said that baseball is 90% mental, while the other half is physical. That's true about mobility, too. The choice clients make to affect a change in their life is the hardest one. Allowing your neighbors, friends, and co-workers to see you walking with a cane is a really big deal. The skills I teach to folks are honestly not rocket science. It takes a little motivation and a lot of guts, but if you want to make a change, you almost always can.
These saguaro cacti are everywhere out here. One theory is that they are 40 years old for every arm they have. This one must be about 1000 years old!
Day 3
Downtown Scottsdale. The environment has got a lot more complex today, by design. Downtown Scottsdale is a really happening place. You can't throw a rock in any direction without hitting a new restaurant, bar or combination thereof. The sidewalks are narrower, are not straight and not in as good repair as yesterday. Lots and lots of tourists. All this combined makes for a complex travel environment for a traveler who is visually impaired. Colin, the client, did well despite all the obstacles in his way. His wife joined us, and she was able to see the progress he's made in such a short period of time. We had dinner with Colin's family (what a great group of folks! Great support group for Colin), then did a night lesson. Retinitis pigmentosa (RP) has an effect on vision at night and folks who have RP often avoid traveling at night because of this effect. The night lesson was done mostly to enhance confidence in the cane skills taught earlier that day, so we stayed downtown and traveled a familiar route. The pedestrian traffic was much heavier than before, and the glare from the headlights really gave Colin fits, but he pushed himself to get things done. He did very well, and his wife was impressed. It's sometimes hard for family members to see their loved one traveling independently. Not because they don't want them to, but because they're concerned about safety. It's hard, but an important step in proving that it can be done.
We're headed to downtown Phoenix tomorrow to see what kind of trouble we can get in there.
Day 4
Downtown Phoenix. The big city, which, in lay terms, means you must pay to park. Construction everywhere, lots of traffic, but not nearly as much pedestrian traffic as yesterday. We finally got into a bigger crowd on the ASU Downtown campus, and Colin did well in the busier areas. The biggest adjustment he's made these last three days is that he feels comfortable enough with his skills to hold his head up and predict what's coming at him. This is a habit that most people who have gradual vision loss find themselves getting into and it makes sense. You stop being curious about what's coming ahead; you just want to know what the next step or two holds. You use your remaining vision, whatever you have left, to make sure you don't trip. The use of the cane, or the dog, allows you to hold your head up again. It improves your balance, your straight-line travel, and your posture. Colin holding his head up has made him feel confident again, and those are his words, not mine. Great to watch.
Also, the Valley of the Sun was windy and cold today, plus the wind was really whipping in the wind tunnel that is downtown anywhere. Never got above 50. "Phoenix in February will be great," they said. "Sunny and 75," they said. Ha!
We ended the day with a trip to the airport in Phoenix. Colin travels quite a bit for work and he wanted to feel more comfortable with traveling in the hustle and bustle of the crowds. We parked remotely and rode the train into the terminal, so we got to work with trains, escalators, and did a bunch of crowd work. Crowd work is crowd work, so we could have done it in a mall, which we briefly visited in Scottsdale. Crowds in airports are a slightly different animal in that they are all transferring their gaze from their phones to the signage above, making sure they're headed in the right direction. Holding his head up allowed Colin to maneuver around travelers who were obviously not going to maneuver around him! We took a path from the train to the terminal he uses most frequently, as he has a trip coming up. We spent a lot of time looking at things like where the closest restroom is to his security line, where to go after checking in at the airline counter, and which escalators go to/from baggage claim. If he takes the train in, he's got a great route because he will get dropped off and picked up at the same spot. If he uses an Uber or gets dropped off by family, it will be a bit trickier because you can't guarantee where you'll get to park at the passenger drop-off area. Still very doable, just more work.
Day 5
We spent today hiking the Sonoran Desert today. Colin is an avid hiker, mountain biker, skier, etc. but hasn't done much since his latest vision decline. I mentioned going hiking with the client I worked with last month, and he said, "Can we do that?" 100%! I feel like part, or most, of my job is to increase people's confidence to the point that they can do the things they want to do, when they want to do them. So, he packed his hiking pack, planned a route and we went hiking. Colin used his cane for a while. He's using a roller ball tip, which works pretty well on harder surfaces, and it really helped him find sharp drop-offs in the path. The ball tip is not great on deep, sandy material, nor is it good for technical hiking where you might need some support in steep climbs. He has a trekking pole that worked really well in those situations, but it didn't give him a lot of preview. So, we tested out both in as many different situations as we could and decided that we needed to develop our own hiking cane. One that's strong enough to lean on and use for support, but with a tip that won't roll out from under you when you do, among other qualities. We'll let you all know what we come up with.
We met Colin's family for dinner again, and it was well after dark when we arrived, so Colin got more night work whether he wanted it or not. He is so much more confident than he was when we met! He grabbed his wife's hand, unfolded his cane and led her out into the dark night. It was really great to watch.
The plan for tomorrow is to use some different mapping apps with a set of bone conduction headphones and do some Juno work.
Day 6
The final day of training was spent using different GPS apps with the Aftershokz headphones. Back in downtown Scottsdale because Colin wanted more crowd work, and boy did we get it. Spring Training for Major League Baseball starts tomorrow, and apparently, bachelorette party season has started. Colin and I saw no fewer than 10 separate bachelorette parties going on in our area. The weather was beautiful today, so if I was a bachelorette, I might celebrate with my friends in Scottsdale today, too. Colin did well using the apps for GPS and really liked the bone conduction headset as he was able to hear everything else going on around him. Using Google and Apple maps, he was able to locate several objectives. GPS is like horseshoes and hand grenades: all you need to do is get close. Once the GPS tells you that you've reached your destination, you may be stopped before, right at, or after the door, so there's a good chance you'll need to gather more information such as using your remaining vision to locate a store number or sign, or solicit assistance from a passerby. The crowd work Colin did today is just another sign that he has progressed so quickly. His head was up, his shoulders back, walking confidently on narrow sidewalks through dense crowds of bachelorettes. It was great to see.
Heading back to Texas tomorrow. Really enjoyed my time here, but it's always good to go home.