Volunteers are a vital part of Leader Dogs for the Blind. Without the more than 350 volunteers who regularly serve on our campus, fulfilling our mission would not be possible.
Our volunteers work in over 70 different positions all over our campus: in the canine center with our dogs, the lobby, the vet clinic, the puppy development or breeding areas. They also work with our clients on and off campus and support our philanthropy, client services, residential services, volunteer engagement, marketing and training staff.
Because volunteers are integral to our success, most positions require a minimum commitment of six months. Positions may require some level of training.
Our on-campus volunteers are adults 18 or older. You may be asked to commit to a weekly shift of six months to a year. You must also have an email address and regular access to the internet. All our volunteers must successfully pass a criminal background check. We do not accept court ordered community service volunteers.
Volunteers work in almost every area of our campus in a wide variety of positions. Volunteers may coordinate or conduct tours, assist clients with tasks such as transportation and shopping, perform clerical work, provide enrichment time for our dogs in training, assist staff in the puppy area, help with events, produce media in Braille and audio, and many other things.
Volunteer opportunities are available weekdays, evenings and weekends, depending on the position. Our canine development center runs 365 days a year from 6 a.m.–8 p.m. Business offices are open 8:30 a.m.–5 p.m., Monday through Friday.
You can apply online by viewing our current volunteer openings. Because our volunteer positions are usually occupied long term, we do not keep applications on file and only accept applications for open positions. When there are open positions, there will be a link at the end of each position description through which to apply. If there are no current available openings that interest you, check back for future openings.
Volunteers will start as soon as possible after a successful application. There are several steps before receiving a volunteer assignment, including pre-screening, interviews and background checks. We will notify you once these steps are successfully completed.
After all your paperwork is done, your virtual volunteer orientation will be included in your welcome packet.
Family opportunities to serve Leader Dog include puppy raising and hosting a breeding dog in your home. All on-campus volunteers must be 18 or older.
Melissa Pletcher, Manager of Volunteer Engagement
Melissa joined Leader Dog in 2022. Her position provides strategic leadership and direction in all aspects of volunteer engagement within the organization. She feels very fortunate to have landed at Leader Dog and is excited to be working with the many talented team members. Melissa says, "I have a passion for science, animals and service. I think volunteering our time is one of the greatest gifts we can give ourselves and others."
She received her Master of Science degree from Eastern Michigan University and her Bachelor of Science in natural resources from the University of Michigan-Ann Arbor. She has over 20 years of experience in volunteer management and is certified in volunteer administration. Prior to coming to Leader Dog, she worked for the Detroit Zoological Society for 10 years as the assistant manager of volunteer services. She has also worked at the former Detroit Science Center, Jewish Family Service of Metro Detroit, Ann Arbor Hands-On Museum and Cranbrook Educational Community as the manager of volunteers. Over the years she has volunteered with various organizations including FrogWatch USA, The Henry Ford and Fair Lane, Home Clara and Henry Ford.
In her free time, she enjoys visiting museums, zoos, Frank Lloyd Wright buildings, being outdoors and spending time with her pets.
Jim Leach, Canine Development Center Administrator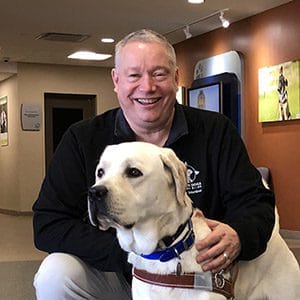 Before coming to Leader Dog, Jim worked at General Motors for 20 years, most recently as a warranty engineer. He has been married to his wife, Kim, since October 1996 and they have two children. Both Jim and Kim have been involved with Lions for years. In June 2020, their son became the fourth generation from their family to join the Lions. They adopted Reagan in 2016 and Beaux in 2022, both career changed Leader Dogs.
Outside of work, Jim is busy serving as a Lions club secretary in Lake Orion. He is also the secretary for the Board of Directors for the Lions Visually Impaired Youth Camp in Lapeer and a member of the Board for Penrickton Center for Blind Children in Taylor. Jim also enjoys spending time with his family, working around the house, camping and golfing.
Anne Preston, Volunteer Engagement Coordinator
Anne received her master's degree in social work with a concentration in management of human services from University of Michigan ("Go Blue!"), and her bachelors in social work with a dual major in sociology from Central Michigan University ("Fire Up, Chips!"). Her career has been spent working within nonprofit administration, with her most recent work experience being with the LACASA Center in Howell, Michigan as their volunteer coordinator. Prior to that, Anne worked at Detroit Zoological Society as their volunteer coordinator.
Anne says about her job at Leader Dog, "I enjoy working with people and for people – having animals around is a bonus! I'm very fortunate to be a part of the Leader Dog team and work alongside so many amazing individuals."