These five puppies have big futures. Right now, each one is living with a volunteer puppy raiser, building the foundation for the work they were born to do as guides. Your symbolic sponsorship makes a difference not only for the puppies who will grow up to become heroes to their partners, but also for the partners whose lives will be changed by these dogs.
Toffee
Toffee is growing up in Wisconsin and this little golden retriever cross is attentive and entertaining! When you sponsor Toffee (or any of our heroes-in-training), you'll receive:
A 5x7 photograph suitable for framing
Four wallet-size photos to share
A puppy profile
An official sponsorship certificate
A plush puppy
And most importantly, the knowledge your sponsorship will help change lives
Your Sponsorship Makes a Difference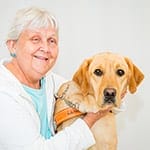 Your tax-deductible gift helps to make people unstoppable.