At Leader Dog, we are fortunate to have some of the brightest minds in the business. Meet some of our team members below!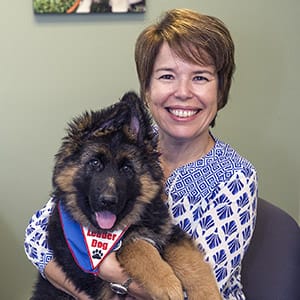 Beth Slade
Director of Lions Engagement
Beth joined the Leader Dog team in 2014. As director of Lions engagement, Beth stewards Lions clubs across the United States, Canada, Spain and Mexico. Though at first she thought working here would be all about the dogs, her perspective changed after she met the people—the amazing clients, dedicated staff and volunteers whose stories and work she loves to share with others. Beth earned her international professional designation of Certified Fundraising Executive (CFRE) in 2017 and is a master speaker for the Association of Fundraising Professionals (AFP) and is on the board of directors for the AFP Greater Detroit chapter. She is a member of the Lake Orion Lions Club. When she isn't busy at Leader Dog, Beth works on the home that she and her family have been renovating for five years, floats on the lake, and spends time with her husband, Mark, daughters Mayson and Raleigh, golden retriever Kipper and the cats, Zoe and Little Man.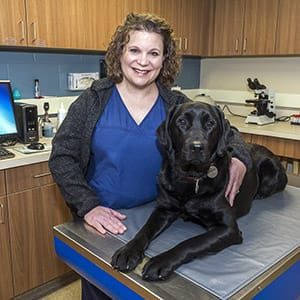 Kristen Harmon
Kristen has been part of the veterinary team at Leader Dog since 2014. Prior to joining the team, she was a breeding stock host for seven years. Her breeding mom, Raven, was just about to retire when Kristen saw a job posting for a vet tech and went from volunteer to employee. She describes her work here as being like a nurse for dogs. Her primary role is assisting with surgeries and entry exams, but she works in all areas of the vet department. She has been a LVT for 22 years. Her favorite part of working at Leader Dog is the people. Kristen and the rest of the vet team work well together and genuinely enjoy what they do, and she feels lucky to be able to do what she loves while helping people at the same time. Outside the vet office, Kristen has two daughters in high school who keep her busy. She also serves on the Fenton Board of Education and as a summer camp director. Kristen's family includes two retired breeding moms, 13-year-old Daisy and 11-year-old Raven, one retired Leader Dog, 13-year-old Hunter, two cats, Billy and Laney, and four chickens.
Dave Bann
Corporate Engagement Manager
Dave joined Leader Dog in 2017. A Rochester Hills native, he passed our campus thousands of times and saw our instructors, dogs and clients training downtown his whole life. Being a dog lover, he'd always wanted to be part of Leader Dog and jumped onboard when the opportunity arose. He quickly learned how much of a "people" organization Leader Dog is and appreciates being able to both work with dogs and help change lives. Dave manages Leader Dog's communication and leadership training program, Harness the Power of Leadership, which demonstrates to organizations of all types how the tools a successful Leader Dog team uses to communicate can be used by leaders to manage more effective and efficient teams. Before Leader Dog, Dave worked in business development. Dave loves gaining new perspectives and learning how our clients' lives were changed through Leader Dog. Outside the office, Dave spends a lot of time chauffeuring his kids throughout the winter, visiting different ice arenas for hockey. They also enjoy finding festivals and events in the Detroit area, and they're always on the hunt for a good pizza. In the summer, he enjoys sailing in Detroit and other watersports up north. Dave hosts Leader Dog Canine Ambassador Coco and also has a rescued Labrador mix and a 16-year-old beagle, who bosses the other two dogs around.
Sarah Duyck
Deaf-Blind Guide Dog Mobility Instructor (GDMI)
Sarah started working at Leader Dogs in 2013 as an apprentice GDMI shortly after graduating from college. With a degree in Sign Language Studies for Interpreters from Madonna University in Michigan, she quickly found her niche working with our Deaf-Blind clients. Leader Dog has been a part of Sarah's life since a young age as her family were puppy raisers who raised five Future Leader Dogs. She is currently hosting a Leader Dog ambassador dog, Vader. When not at Leader Dog, Sarah likes wine tastings, watching documentaries and playing the flute in her local community band.