Since 1939, Leader Dogs for the Blind has operated one of the world's most respected and innovative guide dog programs. Our free program welcomes clients who are legally blind, at least 16 years old, have good orientation and mobility skills and are able to care for a dog.
The program is personalized for each client. Thanks to sophisticated breeding, puppy raising and dog training programs, we are able to match clients with a dog that best fits your lifestyle, travel pace, physical size, stamina and other considerations. Clients have the opportunity to train with their guide dog in a wide variety of situations to fit current and future needs, including urban, suburban and rural locations; college campuses; busy stores and malls; public transit and other environments.
The Guide Dog program at Leader Dog is available for people who are:
Legally blind
At least 16 years old
Able to care for a dog
Efficient with orientation and mobility skills
We offer our Guide Dog program in a variety of formats: on-campus training (our most popular option), in-home delivery, flex training, urban training, warm weather training, and training specifically for individuals who are Deaf-Blind.
What Clients Said About Guide Dog Training:
Juanita Lillie Testimonial
Just graduated from the guide dog course and I loved my experience. Trainers are so supportive and resident assistants are caring. I met so many volunteers and employees from Leader Dog and the passion is evident. And not to mention I made some new friends from my class and my Leader Dog is absolutely amazing!
Juanita Lillie and Leader Dog Baylor
Francisco De Lima Testimonial
Really cool her name is Freedom because that's what it means to have a guide dog. The cane was freedom for 30 years but the dog changes that freedom dramatically!
Francisco De Lima and Leader Dog Lady Freedom
Jackie Hollenbeck Testimonial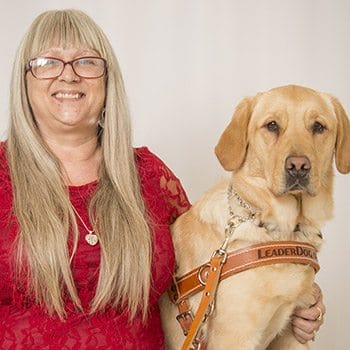 I have had a fear of stairs for as long as I've been going blind. [Leader Dog Willow] actually gave me the courage to take on a double flight of stairs after having a major panic attack trying to go down one step. So hooray for Willow and me!
Thank you LDB for everything you stand for and do.
Jackie Hollenbeck and Leader Dog Willow
Dawn Rudolph Testimonial
Leader Dog is a great place! I did more of my O&M training in March 2015 and today I'm leaving with my Leader Dog Lady! The staff, instructors are all great! Thanks Leader Dog! This place is the best place to come if you are blind or visually impaired! Now that I have Lady, I can walk with confidence and independently!
Dawn Rudolph and Leader Dog Lady
David Chase Testimonial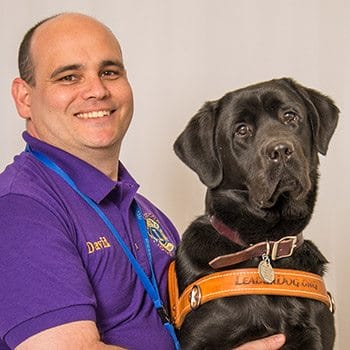 Changed my life. To be able to reclaim independent, safe travel is great. Can't imagine my life without my new Leader Dog Shadow.
David Chase and Leader Dog Shadow