Day 1
I love the airport! Such a melting pot of cultures, sights and sounds. The leisurely walk through the newly constructed, widened terminals are a joy. Lots of natural light is good for the soul. Also, I hate the airport. I can't understand any of the myriad languages being spoken, the new terminal are nice and wide but filled with more people, all confused (like me) as to where to go now, and there's so much sunlight in here I have to wear my sunglasses inside. Goodness gracious. The plane ride should be fun, as it looks about as big as the Styrofoam one I used to buy for my son and we flew it off the house and it shattered into a million pieces. I'm sure it'll be fine. I'm flying into Knoxville, TN then driving to Robbinsville, North Carolina. It's the birthplace of Ronnie Milsap, and a section the road between Knoxville and Robbinsville is called the Dragon's Tail because it has 318 curves in an 11-mile stretch, and only 2 intersections in 14 miles. I'm sure that'll be fine, too. Right?  
The area is famous also for having two major motion pictures filmed here. At least parts of those films. The Fugitive starring Harrison Ford and Tommy Lee Jones. The dam that Dr. Richard Kimball jumps off is here, not too far from Robbinsville. The other film is Nell with Jodie Foster. If you know the film, the scenery is absolutely beautiful, and it is in real life as well.  
Day 2
Met Terry at her house (yes, Terry. She tells me that Terry with a "Y" is the traditional Scottish spelling for a female. I'm not arguing that). Terry has a hearing impairment in addition to her visual impairment, which makes independent travel a little more challenging than "normal." She lived here in Robbinsville, before, a few years ago, but in a different location in town, so this week-long orientation should give her a good head start in getting around town. Still, where she's living is not her permanent home, so there'll be more work to do later. She received some great training this summer from Leader Dog GDMI/COMS (guide dog mobility instructor/certified orientation and mobility specialist) Sarah Duyck while she was attending the Helen Keller National Center (HKNC) in Long Island, NY. Sarah, who was already a seasoned GDMI at Leader, completed her orientation & mobility certification this summer, well on her way to world domination. But I digress… While at HKNC, Terry learned to use communication cards for assistance crossing the street. Communication cards are often used by folks with dual sensory impairments when they don't have enough vision or hearing to safely assess traffic. The cards have various messages printed on them, requesting assistance in crossing the street from other pedestrians. So, here's the thing: Terry used to live in downtown Des Moines, IA, population 212,031, where there were plenty of "other pedestrians" from which to request assistance. In Robbinsville, NC, population 599, "other pedestrians" are a little harder to find. So, today we focused on Terry's cane and orientation skills. Within a few short minutes, it was clear that World Domination Specialist (WDS) Sarah Duyck had already covered this area in full.  
Day 3
This town, population 599, is surprisingly busy. The aforementioned Dragon's Tail draws a multitude of motorcycle and sports car enthusiasts on a regular basis. You wouldn't think a town this small would have this much traffic. Now, the motorcycles aren't Sons of Anarchy-types, nor are the sports cars driving around like a Fast and Furious movie. All of them with whom I've had contact are extremely courteous and, well, old, like me. Not really interested in flying around all the curves, they just want to ride their bikes and drive their cars through some really pretty country, but it does make for a lot of noise with which Terry has to attempt to hear over, using her hearing that is already impaired.  
Yes, I did teach mobility today, and Terry did really well. We walked along Main Street Robbinsville and found the Milsap music building and the Milsap mural. Ronnie's big here. Really big. There's a Milsap Street as well. For a town as small as Robbinsville, their sidewalks are in surprisingly good condition. Not all of them, mind you, nor do they exist on both sides of each street, but with a little practice and a lot of hard work, Terry will have to opportunity to go just about anywhere in town she wants.  
Day 4
One of the positive surprises that Robbinsville holds is that two of the three largest, light-controlled intersections in town have Audible Pedestrian Signals (APS).  There are many different types of APS, but the ones here not only speak audibly when it is time for crossing the street, but they also rapidly vibrate. For Terry, who cannot see or hear the traffic, these APS are invaluable. With the use of these APS, and a lot of practice, Terry could be able to independently cross two major intersections in town. Now, the placement of the actual poles that hold the APS leave something to be desired, as someone maintaining contact with the vibrating part of the system still has to take three or four steps to the curb before stepping into the street. If I had a magic wand, I'd put them right at the curb so the user could be lined up nicely, at the curb, feel the vibration and step directly into the street. I understand that the world is not designed for people who can't see (or hear), however, and we'll work with what we have.  
Day 5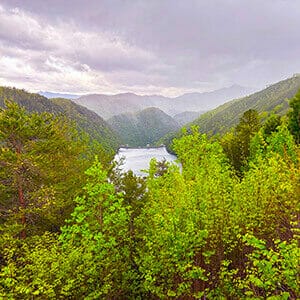 We went to look at an apartment complex that Terry is considering moving into. Like most places here, getting to and from will be an issue. This one in particular is out of town a bit, but without sidewalk access. The road to and from is filled with sharp curves and there's no shoulder, so walking into town would not be safe, whether the traveler had vision trouble or not. Luckily for Terry, there is a transportation system in the county that she can access with some fore-planning. After that, we found a nice sidewalk that leads through a nice park and up to Robbinsville High School. The weather really cooperated with us today, as it has all week. Mid 60s, very few clouds in the sky. We even sat outside for lunch. We won't be doing that back home in Texas until mid to late November! Just in case you're wondering, Terry had a fried bologna and bacon sandwich, and I had some Carolina barbeque (pulled pork) with the slaw right on the sandwich. Tasty. On the second to last day here, I found a local man and wife that make soft serve from all fruit juice. It's called the Pineapple Whip and if you're ever in Robbinsville, North Carolina between 9 a.m. and 9 p.m., you NEED to stop and have some. A yellow food truck on the north side of town with a 6-foot tall, robotic hula girl shaking her mechanical hips to attract customers. I had pineapple one night and peach the next. Shoulda been here all week… 
I'm driving the Dragon's Tail back to the airport in Knoxville tomorrow. If I don't make it, the Pineapple Whip will help me die a happy man! I'm sure it'll all be just fine, right? 
About Barry and his work
The home delivery option for orientation and mobility is a new one at Leader Dog since June 2022. It's an option we've always thought would be a good idea with our clients, either serving directly in their homes at the onset, or following them home to help them establish routes, putting into practice what they've learned over the course of their training on campus. It has proven to be very effective. Serving clients who may not be able to travel for myriad reasons such as health issues, single parent responsibilities, or a desire to work on very specific public transportation routes or intersections are some of the main reasons home delivery we offer home delivery. When home delivery occurs, the client receives the same amount of O&M training as  if they were at Leader Dog. Plus, they get the benefit of doing it in their home environment. There are benefits and drawbacks to each method of training, but by adding the home delivery option, we've given our clients more flexibility.
My name is Barry Stafford and I work at Leader Dog as a certified orientation and mobility specialist providing both on-campus and home delivery instruction. I'll be sharing some of my stories with you as I travel the U.S. to work with clients and provide home delivery service of O&M instruction.