Day 1
"… you will find fortune, though it will not be the fortune you seek. But first, first ye must travel a long and difficult road. A road fraught with peril. You shall see things, wonderful to tell… I cannot tell you how long this road may be, but fear not the obstacles in your path, for fate has vouchsafed your reward. Though the road may wind, and, yea, your hearts grow weary, still shall you follow them, even unto your salvation."
For any movie buffs that may read this, this is a portion of the speech the blind man gave the three escaped convicts in the classic movie "O Brother, Where Art Thou?" It also describes days 1-3 of this month's trip.  After two delays for "forecasted bad weather," two cancellations, two nights in motel from a nightmare, three meals from hotel vouchers, and possibly the roughest 30 minutes I've ever spent in the air, I finally made it to Pittsburgh, PA.
All this time at the airport gave me plenty of opportunities to wave mindlessly at motion activated water faucets, soap dispensers and paper towel dispensers. At one point, one men's restroom in Terminal C in Houston looked like a synchronized swimming event as men of all ages, races and creeds moved from one fixture to the next, in an unchoreographed choreography.
Upon finally arriving in Pittsburgh, I quickly checked into the hotel and raced over to Joe's house. Joe, my client this week, had been patiently waiting for me to arrive. We spend some time getting to know each other, then took a walk around his neighborhood. Joe's a baseball fan, a history fan and a baseball history fan. We're gonna get along just fine.
Day 2
Nights in hotels allow me to catch up on my reading.  I'm currently reading "Bunker Hill" by Nathaniel Philbrick. I mentioned in my last blog that I was reading "Last Stand" by Philbrick and highly recommended it. Spoiler alert: It doesn't work out well for Custer, or the majority of the 7th Cavalry. Bunker Hill is about the battle of, you guessed it, Bunker Hill. Which actually occurred on Breed's Hill, a fact I learned while reading.
Today started off in the little town of Coraopolis, nestled along the Ohio river north and west of Pittsburgh. Good sidewalks in downtown, a couple of traffic lights, but a challenging travel environment. Joe has had some training in the past from the state of Pennsylvania and it shows. He has a good foundation of skills. Makes my job a lot easier. After lunch… wait… lunch: Two words: Primanti Brothers. It's a sandwich shop that opened in the 30s, specifically for dock workers and garbage men who either got off late or started early. To make the sandwiches more filling, Primanti started putting the french fries on the sandwich, with a large scoop of coleslaw as well. It is a fantastic sandwich.  I've been there twice already. Anyway, where was I? Oh yeah, after the amazing sandwich, Joe took me to his old neighborhood, West End, to a beautiful overlook from which you can see downtown Pittsburgh, all the sports stadiums and the three rivers (Ohio, Monongahela and the Allegheny) that flow in and around the city. It's where 3 Rivers Stadium got its name. 3 Rivers is where the Steelers and the Pirates used to play, before corporations started buying naming rights to stadiums and sports lost a ton of romance. The Pirates now play at PNC Park and the Steelers play at XYZ stadium. But I digress… The remainder of the day was spent on a trail that Joe walks on a regular basis. A beautiful rails-to-trails area that was a perfect way to end the day. Now, what to do? I think I'll go to dinner at a local sandwich shop and read about Breed's Hill…
Day 3
Joe collects coins, so we learned a route to his favorite rare coin shop. Joe loves to fish, so we learned a route to two of his favorite fishing spots. Joe loves to eat pizza at Anthony Jr.'s in Coraopolis, so we learned a route there. Boom. I love this job. Who gets to do this kind of work?  The weather here this week is fantastic, I'm out in it, doing what I love to do, empowering someone to continue living his life. Is it the same as before? No, but whose is? Joe is figuring things out, and I get to be a small part of that. Groovy.
We went down to the Ohio river, near the town of Sewickley, to a couple of fishing spots Joe likes to haunt. Sewickley is a really nice little town, and the heights above Sewickley house a good many of the professional athletes from Pittsburgh. If I had a professional athlete salary, I'd have a house in a town like Sewickley, or on that lake in North Carolina I got to visit last month, or maybe out in the Phoenix area. Speaking of professional sports, guess what else Joe likes to do? Go to Pirates games. Guess who just happens to be in town during my scheduled visit? The Pirates. Guess where I'm going tomorrow evening? Pirates game. Boom.
I had pierogies for dinner tonight. If you don't know what pierogies are, they're kind of a dumpling with different fillings. Great stuff. I also had kielbasa and sauerkraut, and a side of haluski. It's bow-tie pasta with fried cabbage and onions. I don't know what all was in it, but it was delicious. I'm finishing my night learning about taxation without representation and why that's bad. Did I mention that I'm going to a baseball game tomorrow evening?
Day 4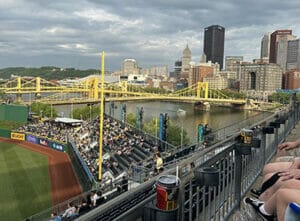 Joe and I spent the morning working on his route to Anthony Jr.'s in Coraopolis. Coraopolis, by the way, is either named for the daughter of one of the first settlers or by a combination of the Greek words Kore and Opolis, which mean "maiden" and "village." I'm not sure who to trust, but I like the story about the daughter named Cora. If true, Cora is the daughter of a man who fought with George Washington during the French and Indian War. It's a bit more romantic…  Anyway, I let Joe go to Anthony Jr.'s on his own today, while I monitored from a distance. Joe eventually would like to pursue a dog guide from Leader Dog and he needs some established routes. Anthony Jr.'s is a good start. He did really well despite veering into a couple of big parking lots. The thing with veering is that everyone does. If you or I put on a blindfold and walked much of a distance at all, we'd veer off our intended course. It's almost impossible to walk an arrow-straight line without the assistance of vision. All this to say, everybody veers, but can you get your orientation back when it happens? Independent travel is all about gaining, maintaining, and regaining orientation while moving through space. Joe is able to regain his orientation. That's a huge key to independent travel.
So, we finished in Coraopolis just before the skies opened up on us. Just in time for Martha, one of our volunteers, to call Joe for a post-class survey. Leader Dog wouldn't be able to do the things it does without volunteers like Martha. Joe said he thought Martha liked him, and I assured him that she would if she ever got to meet him.
After the phone interview, I picked Joe up at his house and we headed to the Pirates game. I've been working with Joe in the suburbs, so I haven't been in town until tonight. Joe was my navigator, although we did use GPS to confirm Joe's directions. Joes was perfect and we made our first stop at the Steelers Pro Shop. I promised my son and two nephews a Terrible Towel. I chose the original, without all the extra mumbo jumbo on it, and even got a discount because, I guess, no one wants the "plain" ones anymore. I like to think I'm a bit old-school and I proved it again with my purchase. After the Pro Shop, we found our parking spot and wandered around the outside of PNC Park until about 30 minutes before game time. Saw the statue of Honus Wagner at the home plate entrance, and one of Bill Mazeroski at the right field entrance. Bill Mazeroski has the honor of being the only person to hit a walk-off home run in Game 7 of a World Series, and he was the first player to end a World Series on a home run. He and his fellow Pirates beat the Yankees in 7 games in 1960.
Joe loves baseball and he brought along his radio so he could hear the action being described as it happened. Turns out, there was a delay in the broadcast, and I was very happy to describe the action to Joe. We had great seats with a beautiful view of downtown Pittsburgh, the weather was beautiful, and the hometown heroes won 13-3. It was a great way to finish our week together.
Day 5
I'm flying back in the morning, so I'm hoping today's rains didn't delay travel for anyone, anywhere, any time in the near future. Namely me. I've had my share of travel delays. Next month, I'll be writing in from Knoxville, TN while working with a young lady on the campus of the University of Tennessee.