Day 1
I flew out of Dallas instead of my usual airport, Houston, so that I would be closer to my son's water polo match upon my return. Weird flying out of another airport. I know exactly where everything is in Houston: parking, gates, caffeine, etc. It felt odd, but planes still fly from Dallas, just like they do from Houston and, apparently, the DFW-ers know how to make an automated faucet work. It's the small things. I flew to Chicago for my connection to Knoxville. The time between flights was very short and the terminals at O'Hare are long. The flight attendant asked everyone with quick turnarounds to raise their hands so the people with hearts and/or consciences could wait a minute and let them off first. As it turns out, about 97% of the people in Coach and even Comfort Plus have hearts and/or consciences, but absolutely no one in First Class does. At least not on the Dallas to Chicago First Class-ers. I did make it to my gate without running, something I've never had to do (nor do I plan to), just in time to board for Knoxville. It's a much smaller plane, so I got to know my row mate a little too well….
So, I'm on my way to Knoxville again, which is fine because I really liked it there the last time. It won't be so brutally hot and humid as the last time, either. It will be, however, filled with Tennessee fans, all decked out in… that orange…. The University of Texas at Austin has their home opener this weekend, and I'll be getting out of town just in time. My client, Luke, is a lawyer in the area, and the person I evaluated last time I was here. As it so happens, I'm evaluating another potential client while I'm there this time. Knoxville is an O&M hot-bed!
Day 2
I'm in another one of those "free, hot breakfast" hotels again. A lady who works the breakfast counter swears they use real eggs, but the "we heat them up in a bag and shake 'em up real good before we pour them out" statement leaves me dubious. I had some "eggs" on got on my way to Seymour, Tennessee to meet Luke.
As I said before, Luke is a lawyer in the area and really wants to become more independent in and around the courthouses in which he practices, including the federal courthouse in Knoxville. Luke lives with his wife, also a lawyer, and their two small children in a small town about 20 minutes south of the big city. He's been visually impaired all of his life, but has recently lost a lot more vision. I gave him a cane tip when I saw him back in June, and he had worn it out. A good sign that he's out there trying.
We started our day with a trip to Knoxville where Luke has an office. He and his wife are their own firm and they work from home whenever they can to save on childcare costs. Navigating in downtown Knoxville on Labor Day was a little like being in one of those post-apocalyptic movies where everything is deserted. A little weird to be in such a vibrant downtown area with so few pedestrians or vehicles. We'll definitely have to come back here when it's busy. After a lunch of really good barbeque, we went to the mall. If you've read my blog posts before, you may have intuited that I dislike mall travel very much. Especially one with no Orange Julius. A nice Orange Julius would've been the only orange thing I liked in Knoxville, but it was not to be.
Luke asked to get as much crowd-work as he could, and on Labor Day, we figured the mall would be a good place to get it. We were right. It looked like someone kicked an anthill inside the mall, much less the parking lot. Luke hasn't gone to the mall in a long time and wants to do this, and many other things, so he can be with his family on social outings. He usually defers when they go places in which he feels uncomfortable, and he wants to change that. The mall has a nice, dark tile pattern along the outside wall, next to the store openings, which Luke could follow in order to keep "straight" (very few straight lines in malls) and we were able to locate a couple of stores he likes: the Apple Store and something called Alumni Hall, which is exactly what it sounds like. A LOT of… that orange…. I somehow survived that and Luke did so well!  He told me he hadn't been shopping on his own in a long, long time, and this kind of success breeds confidence, so I'm all in.
Day 3
I skipped the "eggs" this morning and went for a bagel and cream cheese. Real cream cheese. A fellow traveler from New York warned me that they were not "real" bagels, but what can you expect from a New Yorker when the subject is bagels? If you've ever had a real New York bagel, you'd know what he's talking about, and he's right. My inauthentic bagel worked for its intended purpose, and I went on with my day.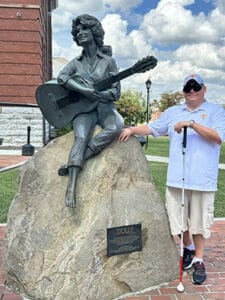 We traveled to one of Luke's most frequented courthouses in Sevierville, which is the county seat of Sevier County. Luke's intentions here were two-headed: 1. Learn to travel more independently within the courthouse itself, and 2. Travel more independently around the exterior of the courthouse and the surrounding square. Maybe find a restaurant or two from which he can get lunch if he's there all day. The courthouse was a three-level maze of offices, bureaucracy, and lots of people waiting in lines. We spent over an hour inside, finding specific offices and courtrooms, and working on stairs. Luke is getting used to using his cane for detection of obstacles under his feet and using his remaining vision for what's happening around him. He looks down quite a bit, but we're both hoping to change that over the course of the week.
We explored the courthouse square and the surrounding area and Luke got some work on stop sign-controlled intersections. They can be very tricky, sometimes trickier than a multi-lane, light-controlled intersection, mainly because the traffic at that multi-lane, light-controlled intersection is almost always the same. At least, it adheres to a pattern. A four-way stop intersection has no pattern. It just depends on the traffic at the time. Besides the street crossing work, we found a couple of restaurants to which Luke could easily travel before, during, or after court. If you're ever in Sevierville around mealtime, Graze Burger is one of the best burgers I've had in a while.
The last thing we did before leaving town was to get our picture taken with Dolly Parton, a native of nearby Pigeon Forge. There's a statue of a younger Dolly on the courthouse lawn and I made sure to get a photo for posterity.
We finished the day with more crowd work in Luke's neighborhood Walmart. He feels more empowered every day, and this will only increase his confidence to do more.
Day 4
We went into Knoxville again, this time with Luke's wife, Megan, along for the ride. This was a great opportunity for Megan to see how Luke is doing and how to best assist him when they're out together. We went back to the Knox County courthouse, and it was quite a bit different than the deserted place we visited on Monday. More light-controlled intersection negotiations, and a lot more crowd work. We went to the farmers market, which is usually a hopping place, and while it was busy, it wasn't as busy or as large as it is during the summer months. We did find some homemade cookies that were larger than our heads (and that's saying something for me), and were pretty good as a "snack." We went from there to a place just outside of downtown called McKay's, which is a discount book/video game/DVD/Blu-ray/etc. heaven. Every media you can think of except for 8-track tapes. I learned to drive listening to the Eagles' "Hotel California" and Kenny Rogers' "The Gambler" albums on 8-track. I'll just have to keep on searching. Luke split off from me and went with his wife, which was what I was wanting him to do, so he could get a real-time look at the progression of his skills. And so she could get a look, too. Despite the very narrow, crowded aisles, Luke did very well, and he felt good about getting out with his wife.
After lunch, Megan went home to pick up their son from school, but not before she left him a shopping list from Trader Joe's, another family favorite destination. We got inside and I turned Luke loose on the patrons and employees of Trader Joe's. He got everything on his list, and quite a few extra things. Megan may not let him go shopping again, which MAY be part of Luke's plan… I didn't ask. He also was stopped and asked by another patron if she could pray for him. This has happened quite a bit to me and clients of mine over the years. I'm a big believer in the power of prayer and so is Luke. He allowed the young lady to pray for him and was totally OK with it. We had some frozen items so we headed home right after. We'll see if he is allowed to shop by himself again.
Day 5
I'm not going to talk about my "free, hot breakfast" today. Moving on…
Luke has asked for crowd work every day. He only has vision in one eye, and that eye is not that great. Things come into and out of his visual field pretty quickly, so it's important to him to be able to manage all that. So, Sevierville has not only a statue of Dolly, but also a Buc-ee's. If you don't know what a Buc-ee's is, it's hard to explain. At its core, it's a convenience store. On the same scale as saying King Kong was a big gorilla. It has 120 gas pumps! The store itself has a deli, a literal wall of jerky, its own clothing line, and the biggest, cleanest restrooms in the land. They actually have bathroom attendants. It's quite something, really. Also, the best store-bought BLT I have ever had. If you know me, this is a big statement, as I have had my share of store-bought BLTs. Since you secretly wanted to know, the best BLT I ever had was on a Saturday in Jasper, TX at Mawmaw and Pawpaw Coker's place, with fresh, home-grown tomatoes and thick-cut bacon. Exquisite. But back to Buc-ee's. If I said that the mall looked like someone kicked an anthill, this was the anthill on steroids. I've never been to a Buc-ee's that wasn't busy, and this one did not disappoint. Luke traveled like a pro inside, choosing some Buc-ee's specials for himself and each of his family members. He feels so good about himself and so positive about his experiences, he keeps seeking out more difficult challenges.
Luke is a Tennessee Volunteers fan. A very passionate one at that. He really wants to be able to take his son to a game at Neyland Stadium someday and feel confident in his ability to maneuver independently while he's there. So, he asked me if we could go. My reply was that I'd love to if we could get in. On Tuesday evening, Luke and his wife both put out feelers on social media asking for connections. I asked one of our staff at Leader Dog who is instrumental in Lions Club relations, the indomitable Beth Slade, for connections as well. Beth came through with a Lions club member/Leader Dog puppy raiser, Connie Emmons, whom I did not get to contact because one of Luke's contacts came through before I had a chance to. So, 2 ½ days before their home opener, we got a guided tour of Neyland Stadium. Again, for this Razorback fan, all… that orange… is a little hard to take, but our guides, Thomas and Trevor, showed us around, let us go up and down the stairs, check out the new construction, the layout of the bathrooms, the concessions area, and just about anything else we wanted to do. Neyland Stadium holds over 100,000 people, so we didn't tour the whole place, but we got a real good look at it. We are very appreciative of the folks who put this together for us. I'm sure it's a big deal to get a tour, much less an unplanned one, two days before the home opener. They didn't even have their trademark orange and white checkerboard endzones painted yet.
Day 6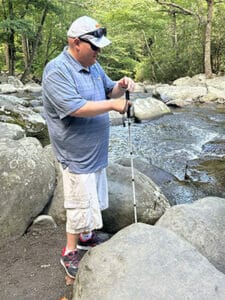 Our last day started with a trip to the Great Smoky Mountains National Park, to a picnic spot called "The Chimneys." This is a place to which Luke's family has traveled multiple times, but Luke never has because he didn't feel comfortable traveling on the rocky, unstable ground in the campground. Like he had for the rest of the week, Luke not only met my challenges but sought challenges for himself, and this one was big. There's a beautiful mountain stream running beside the picnic area and Luke's kids love to get down to it and play. Luke not only wants to go there, but get down to the stream, over boulders, and down gravelly slopes. Motivation is key here, and with a little reconnaissance, we found a way to do it. He avoided the temptation to lean on his cane for support, which is not designed for this purpose. Slow and steady wins the race, and it did today. We got to the water's edge, and he was grinning like he stole something. It was a nice moment to be a part of. We discussed the use of trekking poles, which are almost the same length as his cane, but built for support and balancing, at least in one hand. There's also a cane that's designed a little more sturdy, specifically for hiking. However, we didn't have either of those with us, but his desire to spend more quality time with his family really motivated him.
We finished our day with a trip to the Smoky Mountain Knife Works (SMKW). It's a must-see if you're ever in Gatlinburg/Sevierville while at Dollywood or just passing through. SMKW is a multi-level shop housing more blades than a medieval castle. Multiple levels and hundreds of hundreds of people looking at them. It was the crowd work that Luke had been looking for all week, along with stairs, ramps, multiple obstacles, and everything else you can imagine, and he performed beautifully. I was so proud of him, as I wanted, on several occasions, to use one of the knives on multiple shoppers paying no attention to Luke. I did not, and we escaped with our lives and our dignity intact. Or Luke did, at least.
Day 7
I'm headed back to Texas early, early in the morning, so I'm really glad that my hotel is so close to the airport. Also, the early hour prevents me from partaking in the "free, hot breakfast" one more time. I'm so disappointed…. I have a 0530 flight, which means I'm supposed to be at the airport at least an hour and a half before the flight, which means I need to be there at 0400. Up at 0300 (I'm a BIG fan of not rushing in the morning), so I can leave at 0345 in order to return the rental car and get through security, which doesn't open, come to find out, until 0510, a mere 20 minutes before the flight. All that to say that I could have slept a lot longer if this information was more readily available. Ugh. Anyway, I few through Atlanta this time and I could actually see my connection gate from my arrival gate. In all my years of flying, that has never happened. I also had an empty seat between me and my row mate, and that hasn't happened in over a year. Not a bad return trip at all.
I'm off to Michigan for an on-campus class for my next trip. I haven't been on campus in a while, and it's always good to see the familiar faces. My next trip after that is to Gainesville, FL, another city to which I've never traveled, so if anyone knows of any good restaurants, feel free to share!